Blackbeard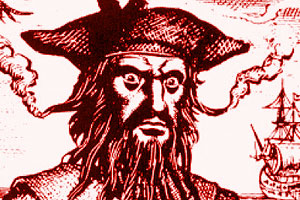 Edward Teach, known better as Blackbeard, was the fiercest and most feared pirate of all time. He earned the nickname "Blackbeard" because of his long black beard which almost covered his whole face. He would weave hemp into his beard and light it during battle. He was a fearsome sight to behold swinging swords and knives, with smoke rising from his beard. Often he looked so terrifying that his victims would surrender befre he even attacked them. Most of Blackbeard's crew believed he was the devil.
Blackbeard began pirating around 1713. At the time he was just a crew member on Jamaican sloop commanded by the pirate Benjamin Hornigold. He fought many battles over his time as a pirate and the Bahamas was one of his favourite ports. On November 22, 1718 he was killed during a battle with the Royal Navy. It took five gunshots and more than twenty sword cuts to kill him. The victorious Royal Navy captain decapitated Blackbeard, and hung his head on the ships rigging. During his five years as a pirate, Blackbeard plundered more than 40 ships, caused the deaths of hundreds of people and became one of the most famous pirates.
---
John Rackham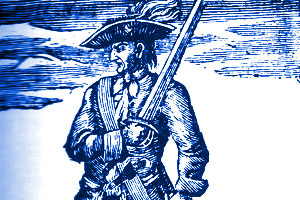 John Rackham was also known as "Calico Jack" because he wore multi-colored calico coats and britches. He was not one of the most notorious pirates and is best known for his association with two famous female pirates - Anne Bonny and Mary Read.
John Rackham stole Anne Bonny anyway from her husband and they fought together in many battles at sea.
---
Anne Bonny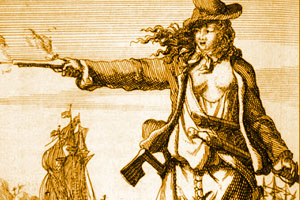 Anne Bonny was a headstrong, fiercely independent woman with a vicious temper and legendary courage. She was born in Ireland, out of wedlock to a maid in her father's home. She married a young soldier, James Bonny, for which she was turned out of her father's home. Later, Anne Bonny met the pirate Jack Rackham on New Providence, and she left her husband to join him at sea. Anne disguised herself as a man and became a fearsome pirate.
She was eventually captured on Rackham's ship, along with Mary Read, another fearsome woman pirate. Mary and Anne were never hanged though, the usual punishment for piracy, because both were found to be pregnant. Anne Bonny eventually disappeared and was never heard from again.
---
Mary Read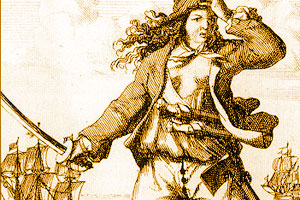 Born in London, Mary Read led a man's life. She was even raised as a boy. She ran away when she was about 13 to board a man-o-war ship. A few years later, she enlisted in the army, met a soldier, fell in love and opened an small hotel. When her husband died she began to dress like a man again and went back to sea. Her ship was captured by the pirate Captain Calico Rackham and that's when she met the female pirate Anne Bonny. Mary Read was not yet a pirate but she became friends with Anne Bonny and decided to joined John Rackham and Anne to became one of Calico's pirates.
Read was later captured along with John Rackham and Anne Bonny but she escaped hanging due to her pregnancy. She died a short time later though of disease and fever, while still in prison.
---
Sir Henry Morgan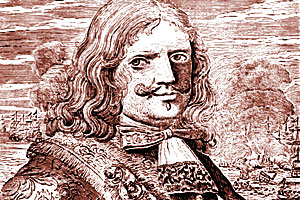 Morgan was born in Wales in 1635. Not many pirates earned the title "Sir" since they were considered to be criminals. But Henry Morgan did. He was knighted in 1674 by King Charles II, after a pulling-off a daring and spectacular raid on one of the richest cities at that time - Panama City. He was one of the bravest, most intelligent and successful swashbucklers in all of history.
Captain Morgan spent amuch time in the islands of the Bahamas. He would wreak havoc and he buried a great deal of treasure. Morgan's Bluff, the highest point on Andros Island, is named after Captain Morgan.