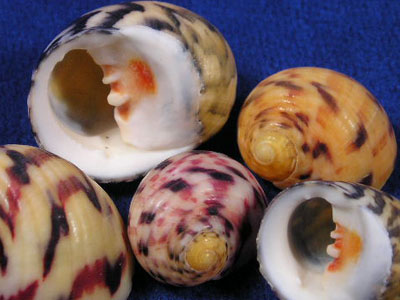 Family: Neritidae
Nerites are small round snails that usually live on rocky shores, tidal pools. or on reef flats. Nerite shells appear to have two or three teeth at the opening of the shell but they are not really teeth.
The Zebra nerite and Bleeding Tooth nerite are two that are common in the Bahamas. The Bleeding Tooth gets its name because it has a red stain on it's "teeth" but this is really just iron deposited in the shell.
Cool Fact: Nerites can close the opening in their shell with a tough structure called an operculum. Nerites also have an internal peg to lock the operculum in place. Basically, they can close the door and lock it! This makes it very hard for predators, such as a crab, to dig out the snail.