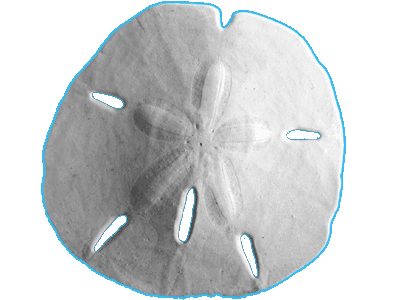 Family: echinoderm
Sand dollars are small disc-shaped marine animals closely related to sea urchins. They live along the sandy ocean floor in the Bahamas. A live sand dollar looks as though it has velvety hair all over it. These are called spines, which they use to move around. Sand dollars move slowly along the sandy ocean floor, mouth side down, feeding on tiny organic particles.
The white sand dollars that you find on the beach are the skeletons of dead sand dollars. On top of a sand dollar skeleton, there is a pattern that looks like a flower, similar to the flower pattern on a sea biscuit, except that sand dollars are smaller and flat.
Cool Fact: The Sand Dollar has special meaning to Christians everywhere as it is believed to symbolize the birth and death of Jesus.